Havana is a lively capital city, full of charisma and, often times, crumbling charm. Friendly, colourful, and exuberant, Havana is worth a visit on any trip to Cuba.
Days in Havana can be spent riding around in a 1950's classic American car, admiring colonial architecture, visiting museums and wandering through the many historic plazas. Nights can be spent watching an extravagant cabaret show or hitting the dance floor at a salsa club.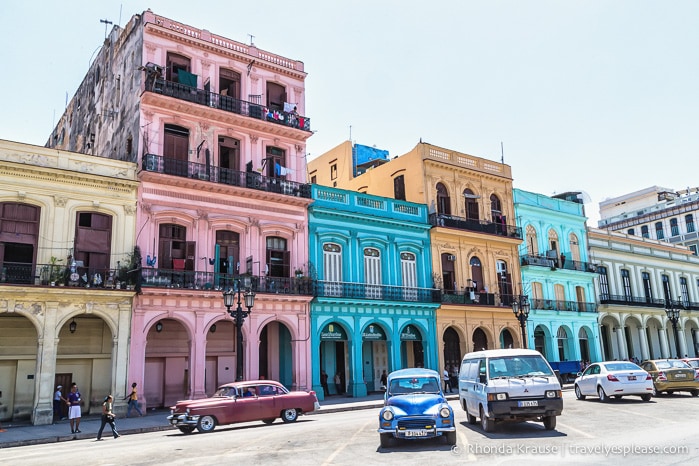 3 Days in Havana- Our Itinerary
We spent three days in Havana (well, it was more like two and half) and found that was the perfect amount of time for us. We didn't get to everything I wanted to because Havana wore us down faster than other cities we have visited. The heat and the STREET HUSTLE unfortunately took its toll by the end of day two.
Regardless of that, we still very much enjoyed Havana and all its spirit! Here is our guide for how to spend three days in Havana.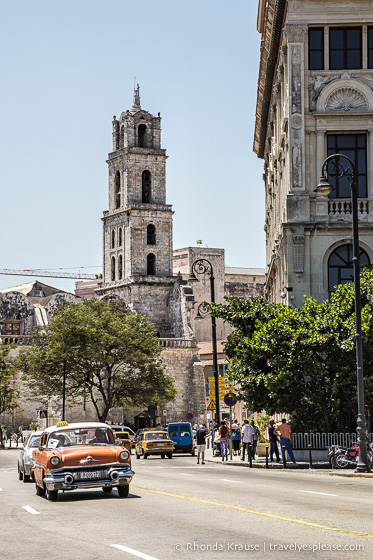 Day 1: Discover Old Havana and the Tropicana
On day one, we explored Old Havana (La Habana Vieja). This is the historic heart of the city and was declared a WORLD HERITAGE SITE by UNESCO in 1982.
There are many PLAZAS IN OLD HAVANA that are nicely restored, reviving the former splendor of this district and showcasing the colourful colonial architecture.
The restored buildings house museums, galleries, shops, restaurants. There are also some beautiful old churches worth visiting, including Catedral de San Cristóbal and Basilica Menor de San Francisco de Asis.
We ended our first day in Havana by heading to the Miramar district to attend a cabaret show at the world famous TROPICANA. Although the Tropicana is heavily geared towards tourists these days, it was still a fun night being entertained by cultural music and dance.
Day 2: Visit Havana's Fortresses and Explore Central Havana
On day two, we headed across the canal to explore some of Havana's fortresses, also part of the World Heritage inscription.
We first enjoyed a quiet visit to FORTALEZA DE SAN CARLOS DE LA CABAÑA, the largest colonial fortress in the Americas. Next, we walked next door and briefly visited the Castillo del Morro.
Day 3: Explore Vedado- Revolution Plaza and the Malecón
On our last day, we took it easy and briefly explored the Vedado area. The area is a mix of unattractive 1950's high-rises (many of them crumbling) and Neo-Classical mansions. There are not a lot of typical tourist attractions, but many of Havana's main hotels are located here.
Our first stop in the Vedado area was Plaza de la Revolución. This square is not particularly beautiful (it resembles a large parking lot) but is noteworthy because of its historical and symbolic importance.
The Plaza was designed in 1952 under the Batista regime and was renamed from Plaza Cívica to Plaza de la Revolución after Fidel Castro's victory in 1959. Since then, the square has seen mass rallies, military parades and official celebrations.
Taken from : travelyesplease.com